Servants of the Upper Room
JOIN IN THE BATTLE TO REPOSSESS AND HEAL HEARTS
as we lift up our prayers for every one and every need, at every moment in time, for the sick, the dying, and the Holy Souls in Purgatory, for sinners everywhere, in the universal church, our country, our families, and all those God has laid on our hearts.
In the Name of the Father, and of the Son, and of the Holy Spirit
 We offer our prayers through the
Sacred Heart of Jesus, united with
the Immaculate Heart of Mary, and
the Pure Heart of St. Joseph as

Servants of the Upper Room
 And now, Lord, look upon their threats, and grant to your servants to speak your word with all boldness, while you stretch out your hand to heal, and signs and wonders are performed through the name of your holy servant, Jesus. And when they had prayed, the place in which they were gathered together was shaken; and they were all filled with the Holy Spirit and spoke the word of God with all boldness."
Acts 4:29-31
Come Holy Spirit
Fill the Hearts of Your Faithful
Enkindle in us the Fire of Your Love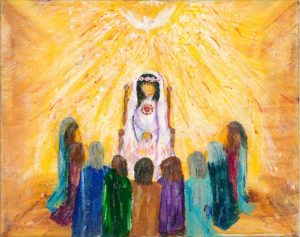 Send forth Your Spirit and we shall be created and You shall renew the face of the earth
Choose a button below to enter into battle!